How Grabr protects your payment and guarantees your payout
Have you received an offer to pay outside of Grabr? Even though this can seem like an appealing way to save some money, there are a few risks to keep in mind.
If you're a shopper, paying on Grabr means we can protect you and your money to make sure you receive the product you ordered.
If you're a traveler, paying on Grabr means we can guarantee you get paid for the products that you deliver.
Shoppers: how Grabr protects you and your money
After you accept a delivery offer you like, Grabr protects your payment until you confirm you received it from your traveler.
Issue with your product? You can contact customer support and if your traveler did not deliver the right product or it is scratched or damaged, you'll receive a full refund.
Traveler can no longer deliver your order and cancelled delivery? This affects their traveler rating and reputation. You can choose to either wait for another traveler to deliver your order or receive a full refund.
When you deal with a traveler in cash, since we can't protect your payment or know what you agreed to, unfortunately there are no guarantees and we won't be able to help you if anything happens. Travelers won't face any consequences if they don't do what they said they would.
This is why it's also important to keep your chat with your traveler on Grabr messenger so customer support can review what you guys agreed to if something happens or a disagreement comes up.
When you pay on Grabr, travelers are discouraged from canceling deliveries unless they really have to. We may restrict their accounts if they cancel multiple deliveries without explanation. Since travelers verify their accounts with their passports, they can't just start over with a new account.
What can happen when you pay outside of Grabr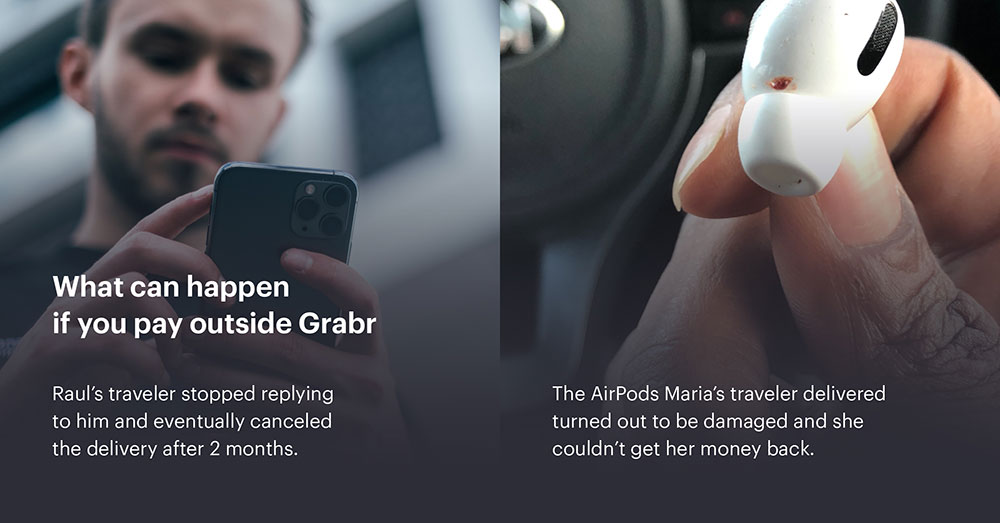 Travelers: how Grabr guarantees that you get paid for delivery
After a shopper accepts your offer, they pay upfront for their product and your delivery reward. We hold onto their payment to guarantee you get paid after you deliver the order.
When you deal with a shopper in cash, unfortunately there is no guarantee they will pay you the amount they agreed to. If they change their minds, they can also decide not to meet up with you to pick up their order.
When your shopper pays on Grabr, only you have the ability to cancel the delivery of the order. Your shopper cannot just decide they don't want this product anymore, especially after you've already spent your money to buy it.