What is Grabr Wallet?
Grabr Wallet is a digital wallet that is used to securely hold USD and lock in the exchange rate between USD and your local currency.
What are the benefits of using the Wallet?
Save Money
By holding credits in your Wallet, you secure the rate of the USD in the wallet. Most of our users add funds to their Wallet ahead of a future purchase as the cost of USD could be higher at the time they wish to make their purchase*. Here is an example of how Paula saved by using Grabr Wallet:
1. On 20 July 2019 Paula adds $1,000 to her Wallet at the cost of ~ARS 42,380.
2. On 1 November 2019 Paula makes a $1,000 purchase for a phone using her Wallet credits. If Paula made the purchase without the Wallet credit, it would have cost her ~ARS 59,510.
3. Paula saved over ~ARS 17,000 by using her Wallet!
Payment Flexibility
You may also utilize Wallet to pay for orders by combining multiple purchase methods. For example, if you would like to make a $500 purchase, you can top up your Wallet with $200 from one credit card, $200 from another credit card and with $100 in cash. You may then use the $500 in your wallet to complete payment for your order. This functionality gives you the flexibility to pay as you wish by using multiple methods of payment.
Easy Refunds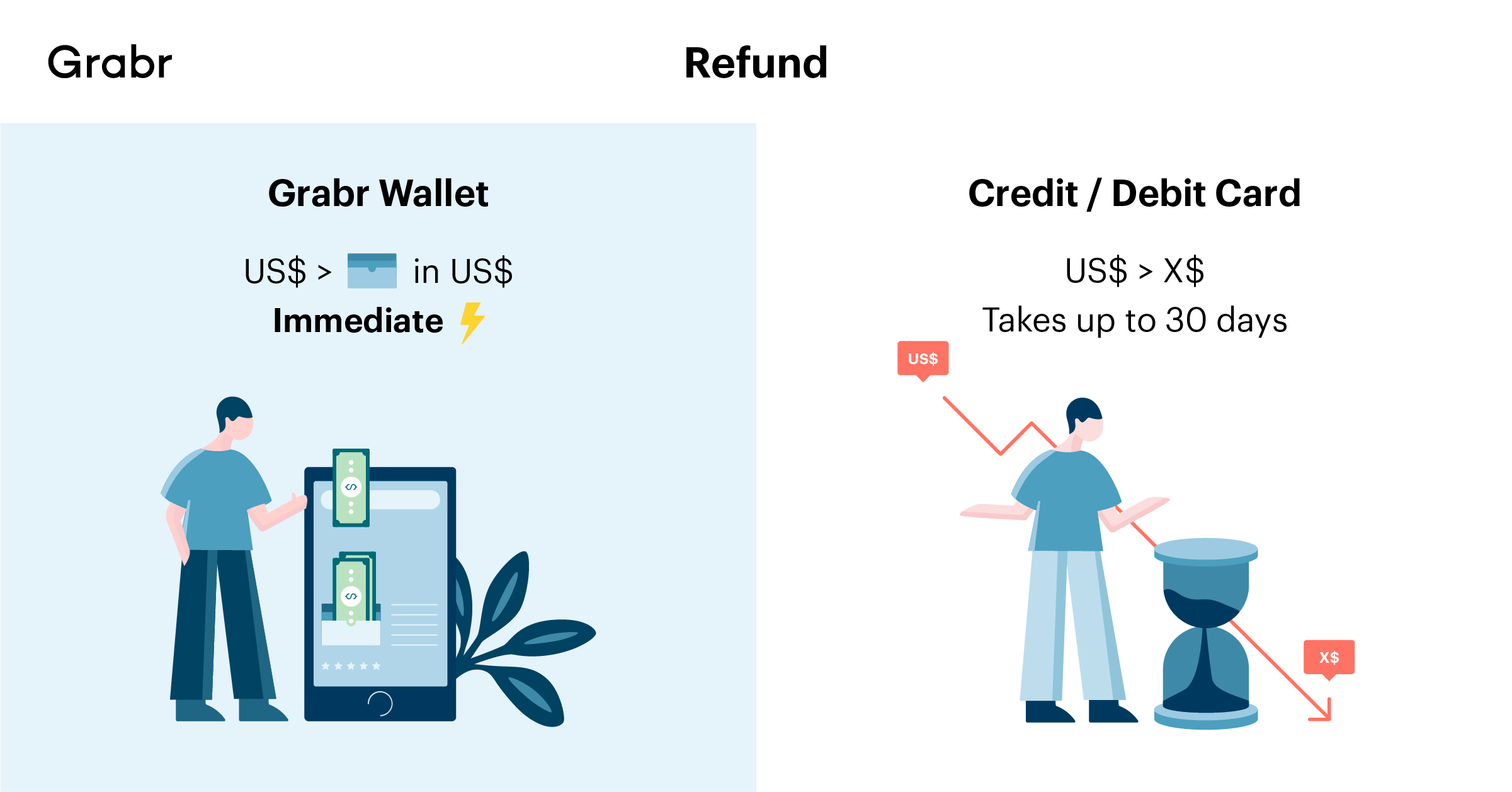 If your order is cancelled, you may opt to receive your refund to your wallet in USD instead of to your original method of payment. Refunds to your wallet are instant, while refunds to a credit card may take up to 30 days to appear on your bank statement.
Additionally, by receiving your refund to your Wallet, you lock in the exchange rate that you originally enjoyed at the time of your payment. By opting to receive your refund to your original method of payment, there is no guarantee that the exchange rate will be the same on your next purchase.
What can I purchase with my Wallet credits?
You may use the Wallet for any purchase on Grabr
How do I add funds to my Wallet?
It's easy! Just go to your account and click on Wallet > Top Up, choose the amount you'd like to top up your wallet with, and choose your favorite payment method. Wallet supports credit card, debit card, cash payments and bank transfers. You can also enjoy topping up your Wallet in installments! Your exact top-up options may vary based on your country.
In addition to top-ups, you may also receive refunds to your wallet instead of to your original payment method. Upon cancelling an order, you will be given an option on how you wish to receive your refund. Learn how to here!
Are Wallet credits refundable?
All Wallet top-ups and refunds to the Wallet are final. Financial regulations prohibit us from refunding or converting Wallet credits to cash or bank transfers at this time.
Can I make a purchase with a combination of Wallet credits and another payment method?
Yes! Grabr Wallet is very versatile and you may select the exact amount you wish to apply from your Wallet credits to a purchase. If the credits applied to an order do not cover the entire amount of the order, you will be able to pay the remaining amount via credit card, debit card, cash payments or bank transfers. Your exact payment options may vary based on your country.
When paying with Wallet credits, do I have to pay Impuesto PAIS (Argentina) or IOF (Brazil)?
No, as Wallet credits are in USD, these taxes will not be applied to the amount of credits used on an order. Impuesto PAIS and IOF are already paid for at the time of topping up your Wallet. You will not be double-charged these taxes when making a purchase with Wallet credits on Grabr.
When I refund a purchase to the Wallet instead of my original payment method, why am I not refunded any installments fees or Impuesto PAIS or IOF?
This is because you will not be charged installments or these taxes again when making a purchase with Wallet credits on Grabr. It is essentially the same as topping up your wallet, where you pay installment fees (if you choose to) and Impuesto PAIS or IOF at the time of topping up, but not are not charged these fees at the time of making a purchase with Wallet credits.
*By using Wallet, you acknowledge that Grabr does not have control over future exchange rates and financial markets. Grabr is unable to guarantee any future potential savings or cover any future realized losses caused by changes in the exchange rate. For more details on historical exchange rates, please visit Bloomberg