How do I get paid?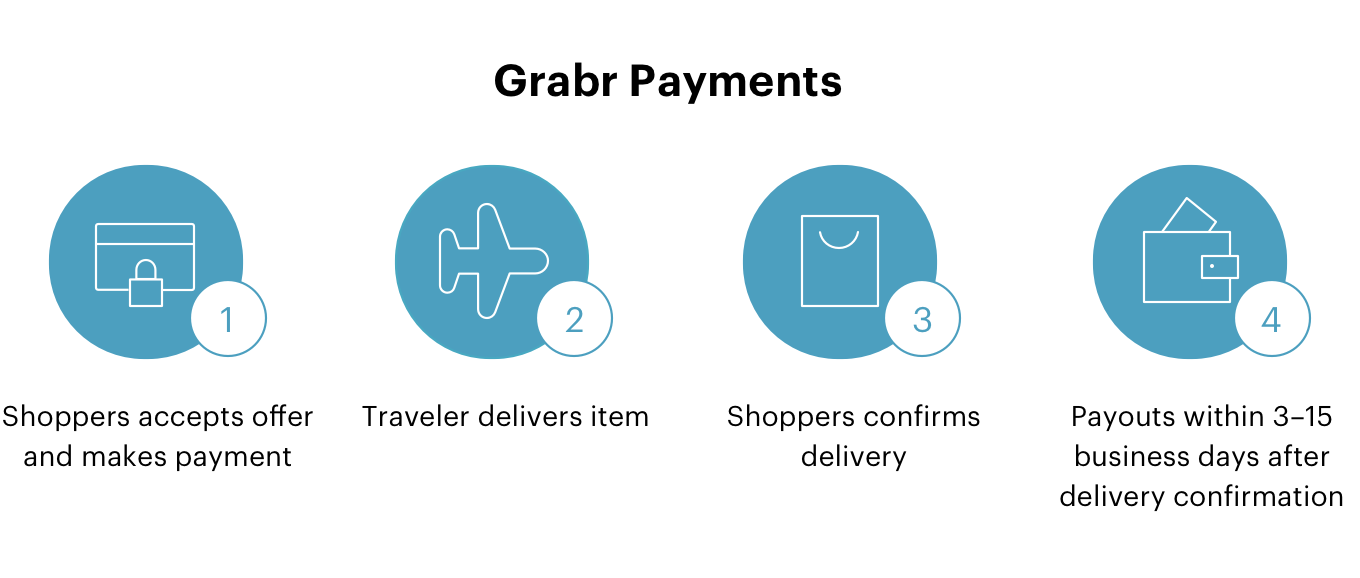 How do I get paid?
Grabr pays via direct bank deposit in the local currency of the country in which your bank is located. Please check here the list of countries we support payouts before adding your bank information.
You may view your past and upcoming payouts using our payouts dashboard.
Note: If you have a USD-based bank account that is located outside of the United States, financial regulations prohibit us from paying you in USD at this time.
Update your payout information here
When will I receive my payouts?
Once you deliver your item, we want to give your shopper up to 48 hours to let us know if there was any issue with the delivery. Grabr will process your payouts between 3-15 business days from the moment that your shopper confirms delivery.
Please note that after your payouts are processed, your financial institution may take between 1-4 additional business days to completely process the payouts so that you see them in your bank account.
Important: If you have multiple deliveries within the same trip, your payouts may be combined so that deposits have more than one payout included. If you have questions regarding the amount of your deposits, please contact support.
Weekend or Holiday delays
Many financial institutions do not process transactions on weekends or holidays. If your payout from Grabr is initiated between Friday and Sunday, your bank may not begin processing the payout until Monday. If your payout is initiated on a holiday, your bank will begin processing the payout on the next business day.
What are the fees to receive payouts?
Grabr covers fees to send money to bank accounts located in most countries, but some countries are subject to a foreign exchange fee. Any fees will be displayed when setting up your bank payout information. Grabr is not responsible for covering these fees, so please be aware of fees which may affect your payouts.
Countries subject to a foreign transaction fee:
Argentina - 3.0%
Brazil - 2.5%
Peru - 2.0%
Uruguay - 3.0%
This means that if you are a traveler with a bank account in Argentina and your payout is $100 USD, you will receive the equivalent of $97 USD (converted to ARS) due to the foreign transaction fee.
What are the exchange rates?
All payouts are paid out at actual mid-market rate at the time the payout is sent. Keep in mind that fluctuations in exchange rates mean you could end up getting paid at a rate that either leads to a small gain or loss from the exchange rate that was in effect at the time you purchased your item to deliver.
Important: Grabr is not responsible for any losses incurred based on the rate at which a traveler obtains currency used to purchase items. i.e. if a traveler pays a 10% premium from the mid-market exchange rate to obtain USD to make purchases, financial regulations mandate that we pay out at the mid-market rate (minus any FX fees mentioned above). We cannot cover the 10% premium the traveler incurred.
Travelers with bank accounts in Brazil are paid out at the commercial mid-market rate. We cannot pay out at the tourism rate.
Pro-Tip: To avoid such losses, we recommend obtaining foreign currency on your travels with a credit card or financial institution that does not charge foreign transaction fees. Avoid currency exchange kiosks that are found in airports and other places of travel.
What if I don't see my payouts?
Your payout likely failed due to incorrect payout information, such as an incorrect routing or account number. Contact our customer service team so that we may assist. Please note that providing incorrect payout information will lead to delays on your payouts.
Here are some tips to ensure your bank information is correct before you start your deliveries:
- If you have a bank account in the United States, financial regulations require that you provide a tax ID (SSN, EIN or ITIN) when entering your information. Failure to enter a tax ID will lead to your payouts being put on hold after your first few payouts.
- Some US banks have multiple routing numbers. If your bank has more than one routing number, use the "electronic" or "ACH" routing number.
- If your bank is outside of the United States, make sure that the account provided is not an account that is based in USD.
- Travelers with bank accounts in Brazil must provide their full account number including any prefixes and the security code at the end of the account.