How to shop on Grabr
Grabr is the go-to way to shop for products that are not available in your country or are too expensive to buy them locally. You can order almost anything with Grabr; from baby clothes and kids' toys to tech gadgets and nutritional supplements.
1) Find the product you want at any online store for example https://www.amazon.com/, http://bestbuy.com/, https://www.bhphotovideo.com/, etc. Copy the link and paste it into Grabr creation page here.
Take a few seconds to

enter product details

, such as the color, size, model, etc, to your order.

Verify the price

matches the price on the website from your item is listed.
2) Add where you are located and when you want your item.
Select the city you live in

Select how long you are willing to wait for your item.
3) Confirm and publish your order.
You'll see an estimated total after any sales tax and applicable fees. This is

not the final price

because you will receive offers from travelers. You will be able to select the offer you prefer that works best for you from one of travelers. Once you accept the offer,

you'll see the final price before confirming it

.

You

won't be charged

until you accept a delivery offer from a traveler. If you have any questions about any offer received, you can send a message to the traveler before accepting its offer.
4) Accept the delivery offer and pay
After you accept a delivery offer from a traveler you will be redirected to the

payment page

. You will only

accept

the offer after the

payment approval

.

You

will be charged

after you accept the offer and payment approval. But, don't worry your

money will be safe

with Grabr and we will only send it to the traveler after you confirm the item delivery.
5) Meet your traveler
You should keep in touch with your travel as their arrival date approaches. You must be in touch with them by Grabr

messenger

.

Remember to meet your traveler in a public place. You can learn more about our

trust and safety guidelines

.

Check your product delivered is alright and confirm you have received it in our app or website.

If you notice any issue with your order after receiving it, please

contact our support team

within 24 hours of receiving your order.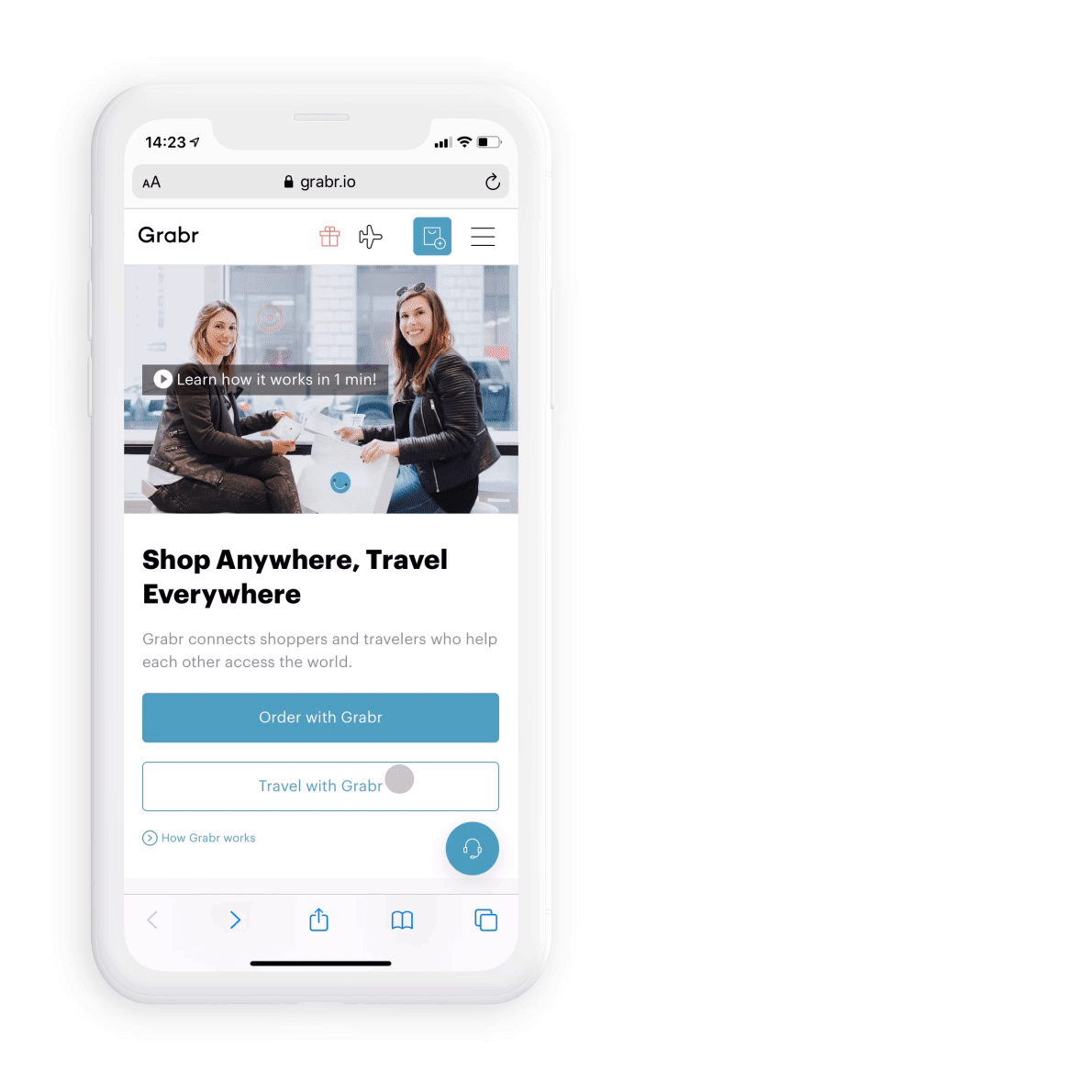 Related article:
What methods of payment does Grabr accept?
When am I charged for my order?
Can you explain all the fees I'm seeing?